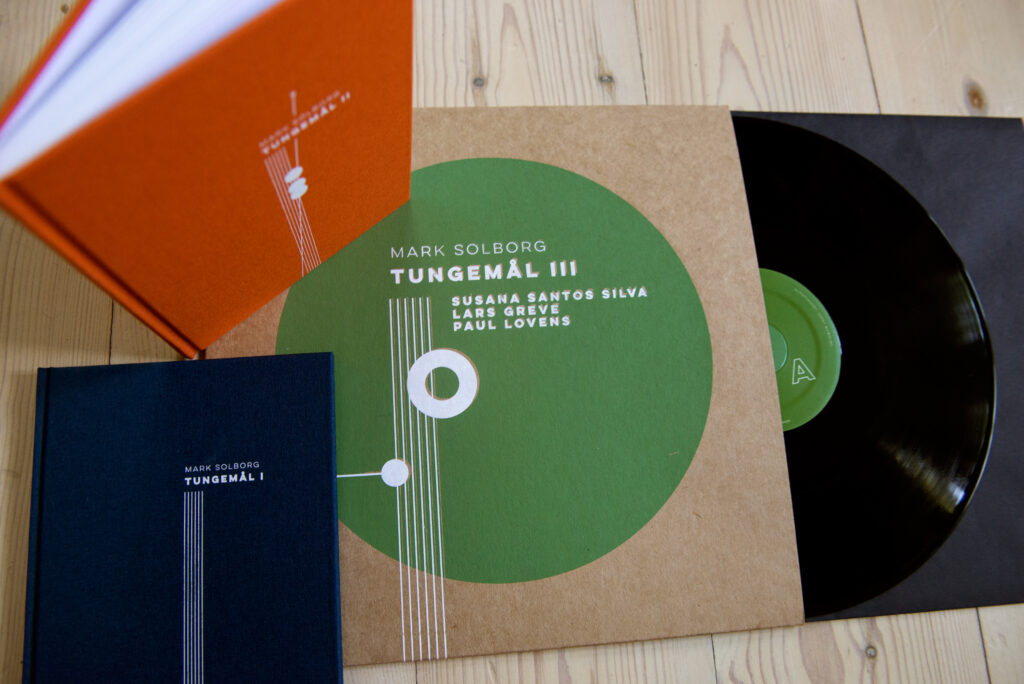 New comprehensive project released November 20th 2020 + June 11th 2021
Vol I +II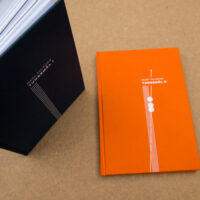 148 MINUTES OF ORIGINAL MUSIC + TWO BEAUTIFUL HARDBACK BOOKS HOLDING CORRESPONDING REFLEXIONS, GRAFIC ILLUSTRATIONS, SCORES AND FOOTAGE.
Mark Solborg - guitar
+
Lars Greve - clarinets & saxophones
Simon Toldam - piano
Francesco Bigoni - tenor saxophone & clarinet
Vol III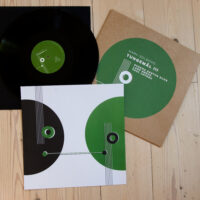 Live recording on handprinted vinyl.
Mark Solborg - guitar
+
Susana Santos Silva - trumpet
Lars Greve - clarinets & saxophones
Paul lovens - drums
T U N G E M Å L is concerned with the electrified guitar as a voice in contemporary chamber- musical contexts. With this comprehensive project Solborg wishes to elaborate the intimate listening experience, and develop methods and tools for the creative work at hand. An extensive artistic study and qualifying awareness of the modern guitar in interplay with acoustic instruments, and the musical spaces they inhabit.
How do you talk - alone and with others - when you are the only one that is being translated through a loudspeaker ? ..is it possible to play both acoustically and electrified - simultaneously ? ..and can you get closer to the intimate speaking voice of the creating musician.
The two first volumes illustrates and documents the research, discoveries, attacks on the tongue of the guitar - and musical conversation in acoustic spaces.  Vol I, focusing on solo works and Vol II that contains works for duo and trio
- both recorded in the studio and site-specific. The debut, on record, of Solborgs work with pianist par excellence Simon Toldam, mr. integrity reedman Lars Greve and a new duo-side of the ongoing collaboration with melodian Bigoni.
The corresponding books contain a multitude of related process-material. From written reflections and notes to scores, footage, spatial diagrams and grafic illustrations. All created and compiled by Solborg himself with the ambition of mapping the topography and formulating the poetics of the work that along with the music contributes to the full understanding of T U N G E M Å L . Solborg views the entire release as a collection or dictionary that seeks to be experienced by specialist, student and layman alike.
The third volume in the series presents concepts and ideas from TUNGEMÅL in a concert context: A beautiful quartet featuring the young portuguese trumpeter Susana Santos Silva, reedman par excellence Lars Greve and the legendary German drummer Paul Lovens - recorded live at KoncertKirken, Copenhagen. TUNGEMÅL III is released digitally and on a numbered limited edition 180g LP with handprinted (!) cover artwork by Solborg.
Mark Solborg - TUNGEMÅL 
Nattesang
(video by Hipermania)
Had a cozy extended interview on ILK and the TUNGEMÅL project with Jan Kardereit and John Arne Rånes at "Uncovering the Scenious"
Writers on music in both DK and Internationally have found very kind words in their reviews of the project:
❤︎❤︎❤︎❤︎❤︎ "The melodies are beautiful, and behind them you sense an open door, straight out and up to the dark and unknown universe.. ..disturbingly beautiful and huge ambitious accomplishment."
– Thomas Michelsen, Politiken.
..en gigantisk og ambitiøs forskning i musikkens indre, mystiske og emotionelle ytringer. Men også vi lægmænd kan se os belønnede og samtidig anerkende Mark Solborgs pionerarbejde.
Mark Solborg leve længe; det kommer der godt ud af både for det lyttende menneske og den lyttende musikforsker."
– Bjarne Søltoft, Jazzspecial (DK)
4,5/5 "Extensive and profound artistic study […] rich and organic […] fascinating sonic koans"
– Eyal Hareuveni, The Free Jazz Collective

(TUNGEMÅL live: Susana Santos Silva, MS, Simon Toldam, Peter Bruun)
"Bruuns stikker virrer mod skindet mens Solborgs fingre virrer mod strengene, nærmest som en form for venskabelig symbiose, der efter nogen tid synes at ophæve skellet mellem harmoni og rytmik. ..guitarens klang bliver varm og sørgmodig, længselfuld ..mens klaveret rumler dybt og trompeten ætser sig gennem lydinfernoet, mørkt og søgende eller trækker melankolske skygger efter Solborgs fingerspil."
(TUNGEMÅL III feat. Santos Silva, Greve & Lovens)
"Både live, på plade og på film er TUNGEMÅL et ambitiøst og interessant projekt der appellerer til dedikerede sjæle.."
- Louise Rosengreen, Information
"It's refreshing when an artist dares to think so deeply about music and documents the process so others can be inspired ... a sprawling multimedia work of art that opens new vistas for the guitar and Solborg's own music."
– Jakob Bækgaard, All About Jazz
★★★★★ "This is convincing! Consistent! And quite obviously ambitious … remarkable and admirable."
– Ivan Rod
"Welcome to the wonderful world of a versatile creative for whom an end result is the step to the next challenge."
– Georges Tonla Briquet, Jazz'Halo

"a highlight in Solborg's career"
– Tor Hammerø, Nettavisen