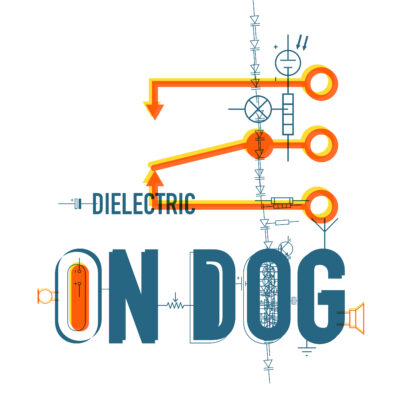 Piero Bittolo Bon - alto saxophone, bass clarinet, flute & voice
Francesco Bigoni - tenor saxophone & clarinet
Beppe Scardino - baritone saxophone & bass clarinet
Mark Solborg - guitars & electronics
Marc Lohr - drums & electronics
The Dog is loose again!
ON DOG's long-awaited third album is out.
Since On Dog's inception, in 2012, it has been clear that this combination of international players – all experienced improvisers and bandleaders – had natural access to a beautiful musical common ground. Their debut in two volumes (Part One – Sloeblack and Part Two – White Horse y La Rumba, ILK 2013) was warmly welcomed by critics and audience and led to an intense live activity in Europe, including Copenhagen Jazz Festival, Sunship, Jazz Luxembourg, Jazzhouse (Cph.), Metastasio Jazz, Correggio Jazz Festival, Südtirol Jazz Festival, Casa del Jazz (Rome), Jazz Club Ferrara, Teatro Sant Andrea a.o.
After 8 years of work, the early compositional strategies – mostly based on polyphony and long, through-composed forms – have been complemented by developing improvisational practices that are highly informed by the dense written material. The original threads – groove-oriented tracks with rocking bursts carried by baritone, guitar and drums on one end, chamber-like passages on the other – are now glued together into smaller, condensed forms, with an unconventional use of synthesizers, electronics and extended woodwind techniques. All performed by some of the finest and original players from Italy, Copenhagen and Berlin. Recorded in 2016 in the beautiful, reverberant Koncertkirken and the clear, generous, main room at The Village Recording in Copenhagen, these tracks stayed in the drawer, waiting for dissemination in small chunks and multiple formats to fit the iridescent quality of the music. The current lockdown due to the virus outbreak urged Bigoni and Solborg to synthesise these outcomes from another world into a single output.
The 2020 Dog has matured, is carefully selected and is as On as ever.
Enjoy your listening!
Tracks:
#1 Stray Dogs I (ON DOG) 1:58
#2 J'accuse, Mancoose (Bigoni) 6:44
#3 Nimmersatt (Solborg) 6:43
#4 Chebyshev Chihuahua (Bigoni)/Stray Dogs II (ON DOG) 5:34

Black Pipes Suite (Solborg)
#5 Pipes 3:09
#6 Slides 2:31
#7 Word Of Mouth 2:44
#8 Elliptic (Bigoni) 4:51
#9 Schnauzers (Bigoni) 6:12
#10 The Cat Takes Revenge And Kills Curiosity (Bigoni) 4:35
#11 Dielectric (Bigoni) 4:16
Total time 49:23
ON DOG and this album is supported by: Danish Arts Foundation KODA Kultur Danish Conductors Association JazzDanmark
Reviews
"Rarely have I heard a more intelligent use of electronics aiming at ensemble music with tonal valeur. Thanks for that - and for all the rest. ON DOG has with their mesmerising polyphonic melodic and rhythmical complexity consolidated their position as an International master-band with a truly original sound." 
"Aldrig har jeg hørt en mere intelligent brug af elektronikkens virkemidler med sigte på ensemble-musik med primær tonal valeur. Tak for det – og for alt det andet. On Dog har med sin suggererende, polyfoniske melodik og rytmiske kompleksitet befæstet sin rolle som et mester-band på verdensplan med sin helt originale sound." 
Bjarne Søltoft, JazzSpecial DK
"On Dog's compositional approach is salted with improvisation and the sound palette adds synthesizers and electronic textures to create eleven tracks of utter individuality – one second pure ebullience, the next complex sorrow, the next bobbing for past references to turn inside out...  ..it flows. It jumps but never jars, each surprise turn reveals a new vista. " - Dave Foxall, A Jazz Noise.
J'accuse, Mancoose (Bigoni) Selected track at All About Jazz, Radio Free Brooklyn and and Jazz X-Press playlist August 2020.
I assure you now, this album isn't for the typical easy listener and do check your rotary volume control knob twice. Their dense writing is to be praised: there are elements of chamber-like passages, but also groove-orientated compositions blended with unconventional woodwind techniques and electronics. On Dog creates a sonic world where musical ideas are elongated, inverted and electronically charged.
- Thomas Fletcher, Jazzjournal (UK)
This mature group has acquired an impressive set of interesting voices and rebellious tricks. This dog is on the loose and is as On as ever.
(Eyal Hareuveni - Salt peanuts*)