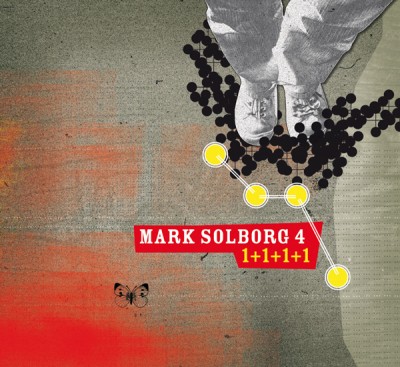 Anders Banke - Tenor Sax & Clarinet
Mark Solborg - Guitar
Jeppe Skovbakke - Bass
Bjørn Heebøll - Drums
1+1+1+1" - the 3rd album of Ms4 - contains 7 new pieces by guitarist and composer Mark Solborg in the playfull hands of Anders Banke, Jeppe Skovbakke, Bjørn Heebøll and Solborg  himself.
This band and its music is about mutual intuitive understanding, musical equilibrium and a certain collective approach to joining complex and intricate writing and a free organic flow. A personal, unpolished and unconventional approach, whether dealing with odd-meter grooves, contrapuntal lines, complex harmony or just a couple of simple chords, is a cherished ambition and trademark of the group. Praised for its interplay, enthusiastic energy, precise
execution of strong themes and taste, the quartet now presents a slightly less muscular and more melodic approach. ...We let some of the rubble stay, though...
Reviews
"This is obviously a group that has grown to know each other's playing well. Solborg is able to construct a piece like "Flatbush Av. Over Easy" with its opening passages scored for guitar and bass, eventually adding drums over an almost funereal 4/4. Solborg and Banke play the wobbly theme before separating for simultaneous solos. This is all masterfully done without stepping on each other toes. Bass and drums keep up the 4/4 beat without it becoming monotonous, a feat unto itself. "Winter Wig," a feature for Skovbakke's acoustic bass, has a sly one bar nod to Coltrane's Meditations by Banke at the end of one of the theme statements that brought a smile to my face.This disc has a lot of moments like that.
 Guitarists will want to check this one out. Solborg and his band have some worthwhile things to say, not only instrumentally but compositionally as well."
- Robert Iannapollo,Cadence Magazine
"...all music is written by Solborg and you often dwell on the beautiful melodies.. Plenty of room for soloing and Anders Banke and Solborg excells in varied play, full of ideas. Absolutely one of the better records I've heard this year ".
- Jan Strand, Orkesterjournalen, Sverige
"Mark Solborg belongs to the elite of Danish Jazzguitarists. New & Clearly defined music ..that both thrills and challenges. A very satisfying experience."
- Jazzspecial, DK
"..What a quartet! From the first second it is clear that this is something special. ..Skovbakkes nonchalante bass carries the musicians forward with a drive that is perfectly matched by Heebøll's technical and intriguing drumming . Tight arrangements are dissolved into zoneswhere the music live it's own life in a way that only a band with something to say can carry through.... it is a pleasure to listen to. The raw sound adds autencity and honesty to the music. ...you are tempted to call the group "the Danish Dave Holland Group"... yes! a couple of tracks has that caliber... some of the best Jazz right now."
- Nicolai Krag Nielsen.-Jazznet
 ".. Played with mutual intuitive understanding.. Anders Banke Is an important co-player in the Solborg universe - together they display a direct and straight ahead communication on a more subtle record..but fear not, the new member , Bjørn Heebøll, is gifted with an ability to play understated and yet rocking. .. a favorite is "Flatbush av. Over Easy" where Solborg plays a sovereign guitar."
- Niels Overgaard - jazznyt.blogspot.com 
"MS4, comprendre Mark Solborg Quartet, est comme son nom l'indique si bien, le quartet du guitariste danois Mark Solborg. Comme toute production "venant du froid", ce disque crée la surprise tant la mixité sonore est surprenante que la qualité d'interpretation des musiciens. L'innovation est indeniable ! le jazz voyage et s'imbibe de multiples couleurs : rock, folk, electro, experimental... Les titres s'enchainent et ne se ressemblent pas...le jeu est net, franc...pas de faux discours ! Encore un disque qui ne merite que des éloges !
Achetez danois !"
-Laureano Perrone, www.jazzcolor.com