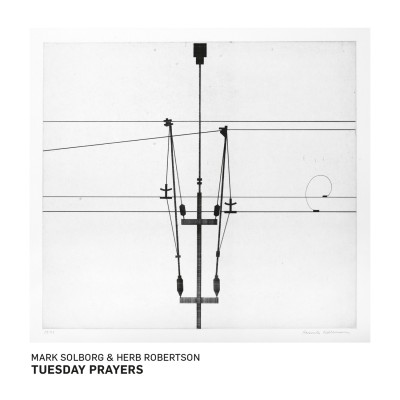 HERB ROBERTSON: TRUMPET, PENNY WHISTLE AND PREPARATIONS
MARK SOLBORG: GUITARS AND DEVICES
After having performed three intense concerts with drummer Peter Bruun and bassist Mats Eilertsen in a little more than 24 hours at Kongsberg and Copenhagen Jazz Festival in July 2014, American trumpet icon Herb Robertson and Danish guitarist Mark Solborg paid a visit to Koncertkirken, an old church in downtown Copenhagen for a duo performance.
That Tuesday evening the music was more calm and contemplative than usual. The large room and beautiful acoustics breathed life into transparent motives, hymns, shouts and expressive textures. Essentially a musical dialogue between friends. Pensive prayers of peace is what you hear on this live-recorded duo album. Music for the quiet of late nights or early mornings. Enjoy !
Tuesday Prayers is available digitally and in a beautiful recycled-paper and non-glue pack- age containing CD and high resolution download. With the kind permission of the Nelleman family and Clausens Kunsthandel the package holds an original etching by Danish graphic artist par excellence Rasmus Nelleman (1923-2004): "Ledninger 1991" ("Wires 1991"). To Herb and Mark the artwork seems to resonate with the transparency and clear structures of the music within. Please visit www.clausenskunsthandel.dk for more information and a world of orginal Danish graphic artwork. The vinyl edition is in the pipeline.
The collaboration between Robertson and Solborg began in 2008 and includes the critically acclaimed albums: Herb Robertson/Mark Solborg NOD (ILK152CD) and Mark Solborg Trio feat. Herb Robertson and Evan Parker: The Trees (ILK199CD). Since then they have performed as a duo and with Mark Solborg Trio at multiple international festivals and venues in Central Europe, Scandinavia, Syriah, a.o.
Tracks
Preparations
#1 - The Flute (2:34) #2 - I know you (3:41)
Concert
#3 - Hymn (8:46)
#4 - Tuesday prayers (17:23)
#5 - Slideswitch* (1:06)
#6 - Shouts, landscape and goodbyes (8:09)
Total time (41:43)
All songs by Mark Solborg and Herb Robertson except * by Mark Solborg.
A taste:
Reviews
"Tonight, they speak together through music. Steel strings bending and the gurgling sound of brass in the night.
Lines so beautiful they shine like a light. Sound becomes a hymn. Music becomes a prayer. Every day is a gift."
Jakob Bækgaard, All about Jazz
"On this focused live recording American trumpeter Robertson and Danish guitarist Solborg use their instruments with some minor preparation for a well-paced six track program that successively demonstrates the near impossible: creating minimalist folkish timbres that are anything but reductionist; plus exposing roaring textures that are stentorian without being offensive." - Ken Waxman, JazzWord
..the interaction is so sophisticated and casual (..) an intimate alliance. Robertson starts with a whistle and then show you all corners of the reverberation room with a seemingly endless arsenal of techniques that Solborg always manages to counter. One moment what wringing and abrasive, and then suddenly with a stunning magnificence. - Guy Peters, Jazzmozaïek
" ..again Robertson proves what a great trumpet player he is.
..Solborgs guitar playing is ineffably beautiful"
- Salt Peanuts, Norway
*****
The intimate format and the large space with its impressive acoustics suggested a different atmosphere, calm and contemplative. .. Both are sonic alchemists, exploring and expanding the timbral palette of their instruments, but deeply attentive to the sudden shifts and mutations in each other mood. ..a chant, shining with an innocence that radiates rare, profound beauty.  Eyal Hareuveni, The Free Jazz Collective
…quietly intense, intimate yet hinting at infinity as the two instrument's differing timbres dance in the broad acoustics of the venue. The open resonance of the space lends a significance to each note and phrase – there's no place to hide here, and no need either. ..deeply meditative, almost devotional in its aetheric conversation.
Secret magicks and hidden geometry... Strength in delicacy...
In these ecclesiastical surroundings, it's non-denominational but simply and definitively devotional. Whatever floats your spiritual boat, these minimalist prayers will raise you up. Dave Foxall - A Jazz Noise
The duo dance around each other, magically leaving just the right amount of space where needed to produce some very magical and delicate musical moments. - Joe Higham, www.freejazzblog.org
..de lader sig gribe af roen og tiden, der findes i en kirke. Ikke i en religiøs kirke. Men i musikkens kirke, hvor fordybelse og fortabelse i øjeblikket rammer og lever. - Niels Overgaard, Jazznyt.dk