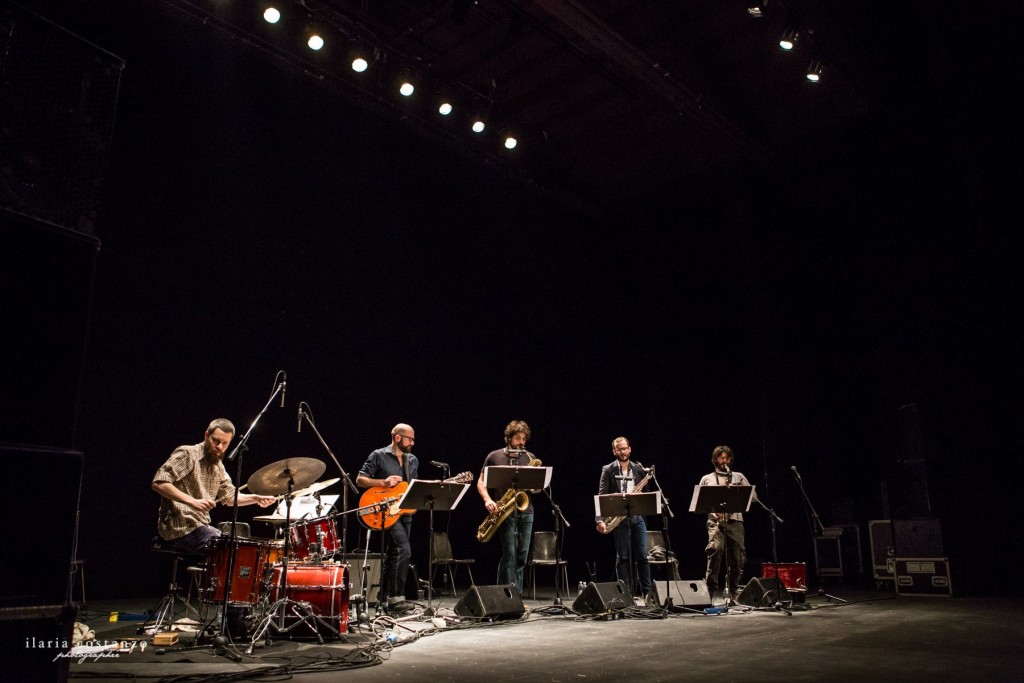 Piero Bittolo Bon (ITA) – alto saxophone, bassclarinet, flute
Francesco Bigoni (ITA) – tenor saxophone, clarinet
Beppe Scardino (ITA) – baritone saxophone, bassclarinet
Mark Solborg (DK) – electric & acoustic guitars
Marc Lohr (LUX) – drums and electronics
We just released a new album: "Dielectric" on ILK.
The 11 original works on Dielectric, by both of us, holds new complex versions of some of the ON DOG trademarks: Rocking bursts carried by baritone, guitar and drums on one end, chamber-like passages with clarinets and flute on the other. On top of that we've added an unconventional use of synthesizers, electronics and extended woodwind techniques. All performed by dear friends and some of the finest creative players from Italy, Copenhagen and Berlin.
On Dog is a trans-European project, started and led by Francesco Bigoni and Mark Solborg. It presents a unique selection of original, sought-after musicians from Italy, Denmark and Luxembourg playing new contemporary music with an edge.
Together and invidually the members of On Dog have played and recorded with such prominent artists as Evan Parker, Gianluca Petrella, Enrico Rava, Stefano Battaglia, Greg Cohen, Jim Black, AACM, Herb Robertson, Chris Speed, Paal Nilssen-Love, Jamaaladeen Tacuma, Hank Roberts, Bobby Previte and many others.
At Südtirol Jazzfestival Alto Aldige 2017 - photos by Fippolito.
On Dog began in 2012 as Bigoni og Solborg fused two trios: Hopscotch (ILK) and Crisco 3 (El Gallo Rojo) - and gathered the newly formed ensemble for three days of workshop, intensive musical exchange and a concert in Massa Lombarda, Italy. Here, and at following concerts, it became clear that this lucky-punch-combination of players and music had natural access to a beautiful musical common ground.  The  praised debut double-album on ILK and a European tour followed  (spring/ summer 2013). Upcoming performances include Italy, Germany and Denmark.
The music is new, original and with an edge: Essentially a study in counterpoint and polyphony which allows five performers (all experienced composers and free improvisers) to be confronted with through-composed pieces. Here Francesco Bigoni and Mark Solborg's voices and pens meet again and ranges from transparent, chamber-like passages  to rocking bursts of sound carried by drums, baritone and guitar.
On Dog at Metastasio Jazz February 2015. Full House.
Photos: Ilaria Costanzo
ITaly 2015 - Metastasio Jazzfestival and Ferrara Jazzclub
Live from Correggio Jazzfestival 2014
Special venue quartet concert at The Royal Library's old reading hall during Copenhagen Jazzfestival 2013. Video (iPhone) Lisbeth Burian.
Selected reviews:
"..the clarinet of Bigoni floats through a fragile veil of sound and destills a truly adventurous epos of profoundly moving beauty. The music grows with every replay and confirms the quintet ON DOG as a new refreshing band with an original sound, based on mesmerizing, polyfonic contemporary melody – dancing in complex rhythms. Bravo !"
- Bjarne Søltoft, Jazznytt.
"[...] there is an organic and thoughtful sense of urgency that makes this trek feel like one we'd like to take."
- Donald Elfman, New York City Jazz Record
" Brilliant recording, genuine and perky musicianship, shrewd compositions, band interplay and interesting arrangements. Unconditional recommendation!"
- Ragazzi.de 
"Music always needs international encounters and exchanges. It happens too often that, at a high career level, these encounters happen due to marketing reasons, or merely putting all-star musicians together. On Dog is a remarkable and absolutely precious exception."
- Enrico Bettinello, Blow Up (IT)
"... konzentriertes Interagieren, behutsames Ausreizen des Gegeneinander von geschlossenen und offenen Formen. 85 Minuten Musik (...) die nie langweilig werden. "
- FreiStil (DE)
 On Dog strikes deeply for its ability to narrate the most unquiet dreams of European Jazz
- Enrico Bettinello, Musica Jazz (IT)
 "Une collaboration exemplaire et "Made in Europe" ..ces deux disques sont une sorte de modèle de ce que l'on aimerait voir plus souvent advenir sur notre Vieux Continent!"
- Thierry Quénum, Jazzman (FR) [CHOC-sticker on both records]
From the ILK-stage at 5e, Copenhagen Jazzfestival 2012. Photos Raphael Solholm
Download PR:
On Dog: Part I & Part II (ILK209CD+ILK210CD) PR
Supported by