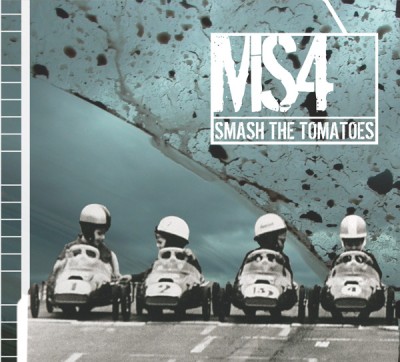 Mark Solborg - Guitar
Anders Banke - Reeds
Jeppe Skovbakke - Bass
Stefan Pasborg - Drums
Go for a ride.. ..The car is packed with dense new music, guitar, clarinet, a strong rhythm-section, dynamic interplay and a couple of nuts and bolts. One one side this cd is just our version of a piece of good music ...on the other this group is somehow where it all started .. THANKS !
Most of the music was written and recorded in 2003...
Reviews
"Happy every time the cd plays and almost sad when it stops. I would be happy if all cd's were made like this. Great themes, precisely executed, great players, determined energy, great variation in the pieces' psychological and musical expression and use - but not excessive use - of studio facilities. The CD serves food to the Heavy Rockers AND shy country-students. The real greatness about it is that both menus seems equally natural and authentic.This record should be owned by anyone who takes interest in the Danish jazzscene of today, the ones who think rock'n roll is dead, the ones who think strong simple themes died with pop-music and those who miss the energy from young Tony Williams and Mclaughlins "Lifetime..."
-Anders Kirkegaard, Jazzspecial DK
"On "Smash the Tomatoes" surf music bleeds into droning dirges, slide guitar spills into noise antics, an electric bass anchors the drum's manic chugging, baritone sax melts into a massive low-end, and a clarinet reaches upper-register trills. The quartet lends the mix an ease with technical facility that never devolves into overwrought displays. Democracy rules, an atmosphere supported by the four quartet members' participation in the Danish independent jazz label collective ILK. ..a highly-charged blend of ingredients. "
-Matthew Wuethrich, All About Jazz

" ..What an original ! ... a new generation is on its way in Copenhagen.. These are four instrumentalists of formidable caliber.. it swings and grooves like h... this is a band that challenges themselves and the listener: Can't find a better Quality-brand than that."
-Tor Hammerø, puls.no
" Blazing guitar playing of Solborg as he interacts with saxophonist/clarinetist Banke.... plenty of gusto " 
-Frank Rubolino, Cadence Magazine
★★★★★  "Amazing play by band-leader Mark Solborg and saxplayer Anders Banke "
-Kjeld Frandsen, Berlingske Tidende
★★★★★  " One of the best releases this year.. a smashing CD with energy, raw power and musicians who can really play.. hot and funky without - in any way - being indifferent or slick..It's a blend you get high on with a passion that burns on every track.. high tempo, odd meterplaying, solid and sovereign interplay with a no nonsense attitude.. get it ! ..and look for the next concerts with these people... it's gonna be great !..."
-Celine Haastrup, Danish National radio