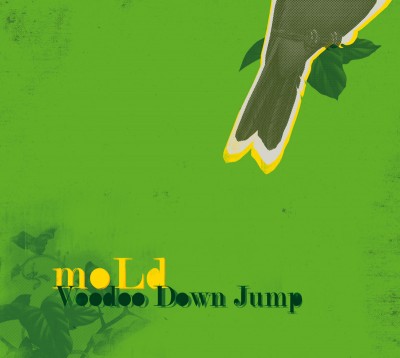 Anders Banke: Tenor Saxophone & Clarinets
Stephan Meinberg (DE): Trumpets , Euphonium & Flugelhorn
Mark Solborg: Guitars
Peter Bruun: Drums & Percussion
8 new moLdings by the infamous Danish/German quartet moLd.
Voodoo Down Jump is a kaleidoscopic journey through groovy and dense jungle, wide open spaces, playful party-zones, revolutionary riots and honest prayers. Improv meets intricate composition, simple songs meet orchestrated suites and folklore meets quartertones in a highly original melting pot.
The Voodoo cast containes a wide range of instruments including euphonium (a small tuba), bass clarinet, piccolo trumpet, bowed cymbals, percussion, guitars, knobs, a.o. Add curiosity, strong commitment, instrumental skills, spontaneity, and a warmblooded need for musical prescence and individual freedom. moLd is about high level group-playing that accomodates expressive "bang for the buck" in Funkytown as well as heartfelt poetry.
Voodoo Down Jump is the third release from moLd. It is the result of intense work with the music and a major leap towards an even stronger, clearer and more organic aproach to the wildgrowing fungus of moLd.
Do your Voodoo..
Reviews
"moLd is unmistakably in good shape on their 3rd album .... I doubt that Meinberg and Bankes playing has been stronger on CD. ..this jazzcritic got goosebumps. .. A visionary will to explore open improvisation (..) combined with a compositional ambition that makes moLd more than a bunch of young alfa-males...   moLd is playing a winning hand with a release they can be proud of." 
- Chr. Munch Hansen – Jazzspecial, DK 
....Voodoo Down Jump er en plade, der formår både at være abstrakt og tilgængelig, kaotisk og struktureret, lyrisk og anarkistisk, swingende og underspillet. Det vigtigste er dog, at der udover den musikalske virtuositet er en lyrisk dybde i numre som "Walls" og førnævnte "Prayers", der gør, at albummet kommer vidt omkring – ikke bare på den genremæssige, men også på den følelsesmæssige skala.
Rig variation, lyrisk dybde og eksperimenter finder man også på Nod, der er et samarbejde mellem avantgardetrompetisten Herb Robertson og Mark Solborg. Ligesom Bill Dixon har Robertson formået at overskride definitionen af sit instrument. Han spiller ikke så meget trompet, som han synger og former lyde ud af sit horn. Lyde, der udspiller sig i tid og rum. På de alt ni kompositioner væver de to musikere et komplekst mønster af lyde og melodier, der gør brug af stilheden og pausen som en ekstra medspiller. Her er ikke nogen horror vacui, men en eksperimenterende eftertænksomhed, hvor Solborgs knitrende arabesker og sugende lyde mødes med Robertsons fint aftegnede lyriske linier. Sjældent har Robertson lydt så godt som her og formatet er ligeledes med til at fremhæve Solborgs evner som akkompagnatør og atmosfærisk kreatør af lyd.
Nod er ikke blot den ideelle introduktion til Robertson, men også Solborgs hidtil bedste plade, og sammen med Voodoo Down Jump giver den et fyldestgørende portræt af en af Danmarks bedste jazzguitarister lige nu.
- Jakob Bækgaard, Seismograf.dk