Grenoble Jazzfest 2008
Anders Banke - Tenor Sax & Clarinet
Mark Solborg - Guitar
Jeppe Skovbakke - Bass
Bjørn Heebøll - Drums
The quartet is currently not active - but none the less a central stepping stone. The work and dues paid here blossoms wildly in other projects. Solborg/Banke/Heebøll, Solborg 4+4+1, Solborg/Banke Duo a.o.
This band and its music is about mutual intuitive understanding, musical equilibrium and a certain collective approach to joining complex and intricate writing and a free organic flow. A personal, unpolished and unconventional approach, whether dealing with odd-meter grooves, contrapuntal lines, complex harmony or just a couple of simple chords, is a cherished ambition and trademark of the group. Praised for its interplay, enthusiastic energy, precise execution of strong themes and taste, the quartet also presents a slightly less muscular and more melodic approach. ...We let some of the rubble stay, though...
Activities also include the addition of 4 horns and a soloist in the Solborg 4+4+1 project.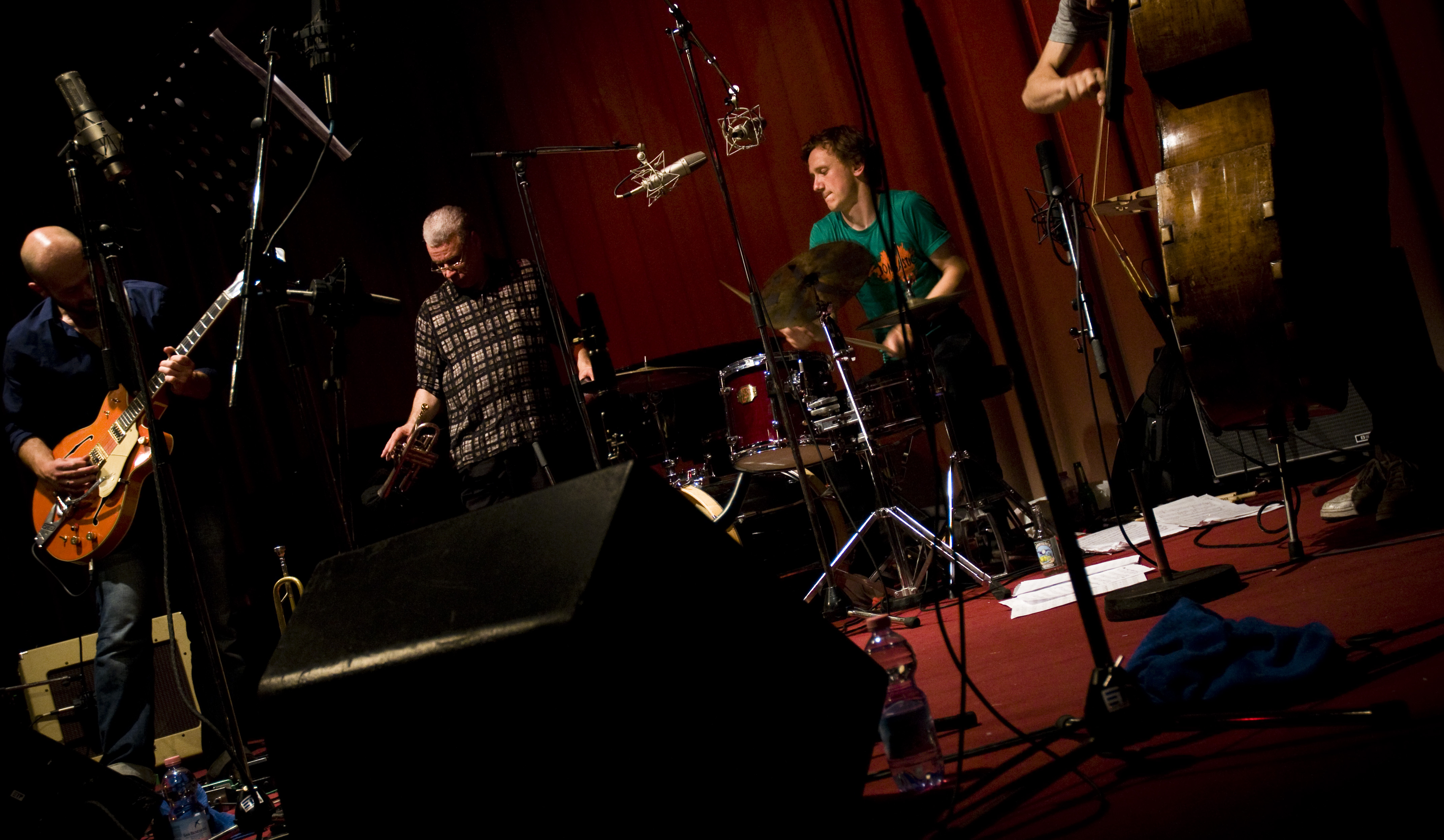 Copenhagen Jazzfest w. Herb Robertson 2008
Selected Reviews:
[ on 1+1+1+1  ]
 "Guitarists will want to check this one out. Solborg and his band have some worthwhile things to say, not only instrumentally but compositionally as well."
- Robert Iannapollo,Cadence Magazine
"Mark Solborg belongs to the elite of Danish Jazzguitarists. New & Clearly defined music ..that both thrills and challenges. A very satisfying experience."
- Jazzspecial, DK
"..What a quartet! From the first second it is clear that this is something special. ..Skovbakkes nonchalante bass carries the musicians forward with a drive that is perfectly matched by Heebøll's technical and intriguing drumming . Tight arrangements are dissolved into zones where the music live it's own life in a way that only a band with something to say can carry through.... it is a pleasure to listen to. The raw sound adds autencity and honesty to the music. ...you are tempted to call the group "the Danish Dave Holland Group"... yes! a couple of tracks has that caliber... some of the best Jazz right now."
- Nicolai Krag Nielsen.-Jazznet
 ".. Played with mutual intuitive understanding.. Anders Banke Is an important co-player in the Solborg universe - together they display a direct and straight ahead communication on a more subtle record..but fear not, the new member , Bjørn Heebøll, is gifted with an ability to play understated and yet rocking. .. a favorite is "Flatbush av. Over Easy" where Solborg plays a sovereign guitar."
- Niels Overgaard - jazznyt.blogspot.com 
"Achetez danois !"
-Laureano Perrone, www.jazzcolor.com
[ on Smash the tomatoes ]
"Happy every time the cd plays and almost sad when it stops. I would be happy if all cd's were made like this. Great themes, precisely executed, great players, determined energy, great variation in the pieces' psychological and musical expres- sion and use - but not excessive use - of studio facilities. The CD serves food to the Heavy Rockers AND shy country-students. The real greatness about it is that both menus seems equally natural and authentic.This record should be owned by anyone who takes interest in the Danish jazzscene of today, the ones who think rock'n roll is dead, the ones who think strong simple themes died with pop-music and those who miss the energy from young Tony Williams and Mclaughlins "Lifetime..."
-Anders Kirkegaard,Jazzspecial DK
"On "Smash the Tomatoes" surf music bleeds into droning dirges, slide guitar spills into noise antics, an electric bass anchors the drum's manic chugging, baritone sax melts into a massive low-end, and a clarinet reaches upper-register trills. The quartet lends the mix an ease with technical facility that never devolves into overwrought displays. Democracy rules, an atmosphere supported by the four quartet members' participation in the Danish independent jazz label collective ILK. ..a highly-charged blend of ingredients. "
-Matthew Wuethrich, All About Jazz
" ..What an original ! ... a new generation is on its way in Copen- hagen.. These are four instrumental- ists of formidable caliber.. it swings and grooves like h... this is a band that challenges themselves and the listener: Can't find a better Quality- brand than that."
-Tor Hammerø, puls.no
" Blazing guitar playing of Solborg as he interacts with saxophonist/ clarinetist Banke.... plenty of gusto "
-Frank Rubolino, Cadence Magazine
★★★★★  "Amazing play by band- leader Mark Solborg and saxplayer Anders Banke "
-Kjeld Frandsen, Berlingske Tidende
"★★★★★ "One of the best releases this year.. a smashing CD with energy, raw power and musicians who can really play.. hot and funky without - in any way - being in- different or slick..It's a blend you get high on with a passion that burns on every track.. high tempo, odd meter- playing, solid and sovereign interplay with a no nonsense attitude.. get it ! ..and look for the next concerts with these people... it's gonna be great !..."
-Celine Haastrup, Danish National radio
China 2010: EXPO in Shanghai, Chengdu, a.o.
Jazz d'Or, Strasbourg 2008
Download PR:
1+1+1+1 (ILK129CD) PR
Supported by