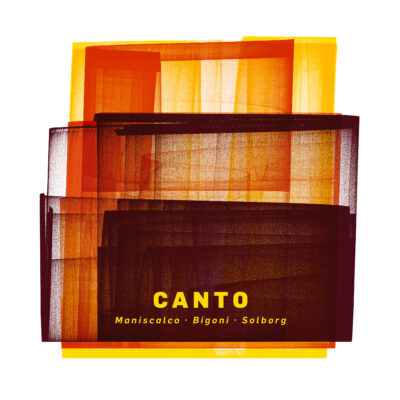 Francesco Bigoni − Tenor & alto saxophone, clarinet
Mark Solborg − Guitars, devices & electronics
Emanuele Maniscalco − Rhodes, piano & keyboards
With a buzz in our ears, we sing our way through the cantos of a new book. Shout – or whisper – our musical poetry into a spacious realm of warm analog keyboards, strings and reeds, flooded with subtle electronics, granular processing and microtonality. Interwoven contemporary chamber music tableaux are carefully folded into a unique multilayered electroacoustic blend – grandiose and yet intimate.
Maniscalco/Bigoni/Solborg navigate freely with and around original materials. This is about improvising as a unit while honouring or challenging the idea of a song. To instantly react to each other and create chamber-like music with a strong presence, that bridges melodic poetry and contemporary abstraction. This music does not care about genre or style. It is essentially about musical conversation and made for ears interested in dialogue.
The Danish/Italian trio has worked their musical approach intensely for a decade. The results can be heard on its two prior albums, praised internationally by audience and critics. With CANTO, the three musicians bring their work and musical approach into a new crisp territory.
Their original approach has, since 2015, taken them to festivals and venues in Berlin,Porto, Copenhagen, London (with Evan Parker as a special guest), Brescia, Ferrara, Strasbourg a.o. Planned concert activity for 2022 includes Newcastle Festival of Jazz and Improvised Music, Copenhagen Jazzfestival, Aarhus Jazzfestival, Vinterjazz DK and tours in Italy and Germany.
Solborg, Bigoni and Maniscalco have, together and separately, performed and recorded with the likes of Enrico Rava, Evan Parker, Paul Lovens, Susana Santos Silva, Maria Faust, Lotte Anker, Copenhagen Clarinet Choir, Benoit Delbecq, Almut Kuhne, Steve Argüelles, Thomas Morgan, Greg Cohen, Jim Black, Stefano Battaglia, Gianluca Petrella and many more...
CANTO has been recorded and processed by some of Europe's finest sound engineers. The album is available for streaming and on CD; a limited 180g vinyl gatefold edition will emerge on ILK in connection with fall 2022 touring.
Enjoy your listening!
Reviews
DK
"..en aldeles ypperlig kompetence på at lytte og vælge i situationen. ..lydbilledet præges af følsomhed og intelligens.
En mesterlig plade med sand skønhed og uundværlig for en perspektivering af, hvorhen den fri, åbne og eksperimentelle musik udvikler sig"
Eng
"..sensitivity and intelligence. A Masterpiece of true beauty.."
"..quietly brilliant Danish- Italian trio. ..In this often rarefied atmosphere, atomised electro-acoustic sounds combine in perfect synchronicity, creating a stunning series of oneiric and almost Miro-esque sound worlds. Rewriting the rules of contemporary chamber jazz, Solborg's music is as vital today as Joe McPhee's Po Music ensembles of the 90s."  - Fred Grand - JazzJournal.UK 
"Such profound and rare beauty is achieved only when kindred spirits meet and keep refining their poetic agenda."
Eyal Hareuveni, Salt Peanuts
Best Jazz in June 22 on Bandcamp
"This music here is an electric current. Its sound is subdued, but its presence radiates a power that's as likely to deliver a gentle shock as brighten the room with its warmth"…..
Dave Sumner, Bandcamp.
"..a sense of mystery & serenity that is unique" 
- Jazzprobe, Tokyo
"This seems to be the three musicians' most direct goal: proposing a vital experience, making music that can't forget sound (in its acoustic properties) and listening, both internal (oneself) and external (the others) […] This music, albeit essential, is extremely rich and adorned, has refined structural elements and occupies the sonic space in a way that is as discreet as it is persistent" – Sandro Cerini, Musica Jazz