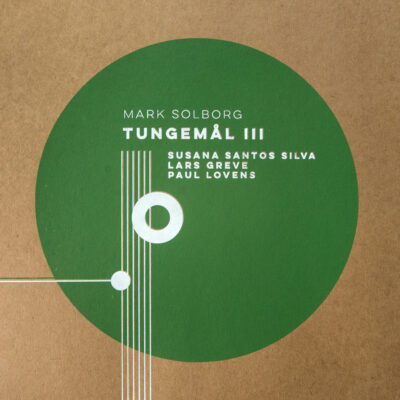 MS -guitar
Susana Santos Silva - trumpet
Lars Greve - clarinets & saxophones
Paul Lovens - drums, cymbals & gongs
T U N G E M Å L is concerned with the electrified guitar as a voice in contemporary chamber- musical contexts. With this comprehensive project Solborg wishes to elaborate the intimate listening experience, and develop methods and tools for the creative work at hand. An extensive artistic study and qualifying awareness of the modern guitar in interplay with acoustic instruments, and the musical spaces they inhabit.
How do you talk - alone and with others - when you are the only one that is being translated through a loudspeaker ? ..is it possible to play both acoustically and electrified - simultaneously? ..and can you get closer to the intimate speaking voice of the creating musician.
Guitarist, composer and bandleader Mark Solborg has in the course of the last three years concurrently with his work for groups and concerts investigated and developed his instrument and a musical idiom. During the course of three volumes Solborg illustrates and documents his research, discoveries, attacks on the tongue of the guitar - and musical conversation in acoustic spaces. With this body of work he is setting ambitious new standards for his realm of music. His TUNGEMÅL.
This third volume in the series presents concepts and ideas from TUNGEMÅL in a concert context: A beautiful quartet featuring the young portuguese trumpeter Susana Santos Silva, reedman par excellence Lars Greve and the legendary German drummer Paul Lovens - recorded live at KoncertKirken, Copenhagen. TUNGEMÅL III is released digitally and on a limited edition 180g LP with handprinted (!) cover artwork by Solborg.
Released to critical acclaim Vol I, focuses on solo works and Vol II that contains works for duo and trio- both recorded in the studio and site-specific. The two corresponding books contain a multitude of related process-material. From written reflections and notes to scores, footage, spatial diagrams and graphic illustrations. The poetics of the work that along with the music contributes to the full understanding of TUNGEMÅL. Solborg consider the entire series as a collection or dictionary that seeks to be experienced by specialist, student and layman alike.
The album comes as a beautiful 180g limited edition vinyl recorded by Thomas Vang, mixed by August Wanngren, mastered by Emil Thomsen and pressed at Nordsø Records.
From the concert at KoncertKirken
Handmade!
…graphic wiz Niklas Antonsen and I have had a couple of fun days at printshop, silkscreen printing the vinyl covers by hand - design by yours truly. 150 unique numbered copies are up for sale! No more, no less. Get yours at the ILKmusic webshop, at bandcamp or at Copenhagen venues in a near future. (If you - for reasons I cannot possibly fathom - should decide to go digital, it is also possible). 

Thank you!
Susana, Lars, Paul, Thomas, August, Emil and Hipermania (for the beautiful video footage)
A special thanks to Niklas for supervision and advice on silkscreen printing, Bettina Senff and Claudia at The Göethe Institut Dänemark, Björn Ross at KoncertKirken, Kasper Jepsen at the ILK office and The ILK's
❤︎❤︎❤︎❤︎❤︎ "The melodies are beautiful, and behind them you sense an open door, straight out and up to the dark and unknown universe.. ..disturbingly beautiful and huge ambitious accomplishment."– Thomas Michelsen, Politiken.
★★★★☆ "Unique would be an understatement..... beautifully crafted with passion, love and creativity and the listener is constantly rewarded by surprise and the unexpected juxtaposition of sounds, instruments and space. It is a work of art." – Ian Lomax, JazzJournal, UK
Enjoy!
:::::::::::::::::::::::::::::::::::::::::::::::::::::::::::::::::::::::::::::::::::::::::::::::::::::::
TUNGEMÅL and related activities are supported by:
Statens Kunstfond
Musikforelæggerne
Goethe Institut Dänemark
MPO
Danish Conductors Association
Danish Musicians Federation
JazzDanmark
Much appreciated!
Reviews
"..a masterful set by like-minded, imaginative sonic alchemists. Solborg,
Santos Silva
,
Greve
and
Lovens
are all masters of the art of the moments, and all have developed their own personal array of extended techniques and palette of sounds. But the essence of this egalitarian quartet not about exploring sound. It is about deep listening, which leads in its turn to the natural flow of music. The dynamics are intimate, conversational and poetic, letting the music sing and blossom in its own accord and shape organically. .. TUNGEMÅL III is a remarkable conclusion for Solborg's extensive study." - 
Eyal Hareuveni, .Salt peanuts