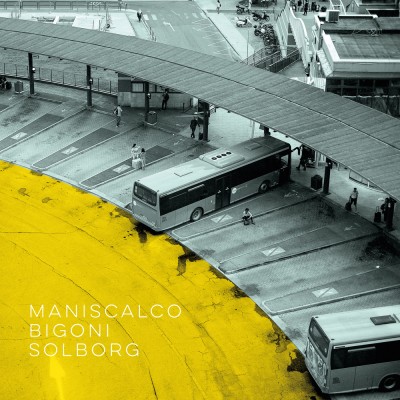 Emanuele Maniscalco - Piano
Francesco Bigoni - Tenor Saxophone & Clarinet
Mark Solborg - Guitar
Francesco (A) is Italian - love takes him to Denmark in 2009. Emanuele (B) is Italian as well - music takes him to Denmark in 2012. Mark (C) is Danish - with deep latin roots.
A and C often play together. A and B already know each other well. C and B feel it natural to meet and set up this constellation. A, B and C enjoy playing concerts in small churches. Improvisation is a vital process for A, B and C.
What you are reading may not be too helpful for understanding the music they play. Then imagine a contemporary chamber ensemble with some dirt in it - a small choir where each voice raises from the ground.
A potentially-folk project.
Slightly less mysterious:
This trio is about knowing the music well enough to navigate freely and improvise, as a unit, with and around the written material. To instantly react freely to each other and create music with authenticity and presence.  A musical attitude that the group has worked intensely on in recent years. The debut album holds a poetic and very melodic chamber musical expression contrasted by textures, preparations and microtonality. An almost architectural blend of abstraction and warmth is a strong ambition and trademark of the group.
This music does not care about genre or style. It is essentially about musical conversation and made for ears interested in dialogue.
Reviews
"Best albums of 2015" according to Niels Overgaard and Jazznyt (DK)
Happy ears all over Europe and in US:
★★★★★ (5/5)
..a masterclass of texture and microtonal subtlety. .. This recording deserves its five stars not only for it's introspective beauty but also for it's sense of quiet adventure and tasteful restraint. - Dave Foxall, Jazz Journal, UK
Recommended New Relase
- New York City Jazz Record
..hypnotic unshakable phrases and melodies ..one thinking organism that is capable of poetic beauty and strong spirituality. ..unique in it's integrity, melodic language and contemporary-poetic atmosphere. What a stroke of luck ! - Jazznytt, Norway.
"Det er musik, hvor der skæres ind til benet. Her læsses der ikke til med fyld og fedt. Solborg har en særlig fornemmelse for at spille avanceret jazz. .. et følelsesladet og intenst rum.." - Niels Overgaard, Jazznyt
★★★★★ (5/5)"...you're surprised the album has drawn to a close without ever noticing the passage of time. This is probably due to the strength of the writing, something that really stands out on this excellent release. The beautifully composed themes which flirt with the music of silence, nostalgia and serenity, mean that I will surely be returning to this fine album for many years to come." - Joe Higham, www.freejazzblog.org
..remarkable talents.. Uncompromised music, alternating airy moments and brightly lyrical episodes, all defined by a simple and straightforward writing which luckily avoids self-satisfaction and virtuoso dribbling. The three musicians' skills are clear from the first listening and shine even more through the next ones. - Carlo Boccadoro - Internazionale - april 2015
Die indes kein Stück mild oder überzuckert sind. Da ist kein Süßstoff zugesetzt, keine Entwicklung wird gedeckelt oder gebremst. Außerordentlich erstaunlich, wie lyrisch und nachdenklich die Abstraktion in der Improvisation geschieht und wie empathisch in aller thematischen Konzentration das Zusammenspiel gelungen ist. Es spricht ebenso für die Inspiration wie für die Kreativität des Trios, echte Musik so nah an den Hörer zu bringen, ohne ihn zu schocken. Ragazzimusic.de
Introspective from first note to last, but always with uneasy thoughts and barely restrained eruptions of emotion. Like how a peaceful sky of thick grey clouds always has the ominous threat of lightning & thunder hanging over it. - Bird Is The Worm
This music is blown around the listener, left free to chase melodic ideas, silences, little abstractions, timbral mutations, timeless sweetness … What a beauty! - Enrico Bettinello, Blow Up (IT)
Uncompromised music, alternating airy moments and brightly lyrical episodes, all defined by a simple and straightforward writing which luckily avoids self-satisfaction and virtuoso dribbling. The three musicians' skills are clear from the first listening and shine even more through the next ones.
- Carlo Boccadoro, Internazionale (IT)
[…] hypnotic unshakable phrases and melodies […] one thinking organism that is capable of poetic beauty and strong spirituality. […] The trio is unique in it's integrity, melodies and contemporary-poetic atmosphere. What a stroke of luck!
- Bjarne Søltoft, Jazznytt (NO)
Maniscalco/Bigoni/Solborg haben eine musikalische einheit mit starker eigene signatur ausgebildet, die entsprechende aufmerksamkeit verdient  (…)- eine Wohltat für den Zuhörer! - Henning Bolte, Jazzthetik (DE)
We could call it chamber music for the placidness of the sonic setting, the meticulous attention to dynamics, the absolute, never over-the-top instrumental control, the formal precision. We could, but … it wouldn't do justice to a work, which goes far beyond the boundaries of such a definition.
- Vincenzo Roggero, All About Jazz Italy
.. Starting with Bigoni's "Blomme", the trio plays with the utmost elegance and restraint, reminding me of the way the Modern Jazz Quartet plays their own precious, quaint songs. ... There is something immensely enchanting about this music, sometimes calm yet still somehow disorienting in its own way. The calm center here feels great when life is filled with the usual stress of life. - Bruce Lee Gallanter, DMG